Robe 2002
First leg, Adelaide to Meningie, on the Coorong. Lunch at the bakery and then down to 42mile Crossing. Darren's 4Runner didn't have enough fuel for a full beach run to The Granites, near Kingston. The GQ and Vitara went for a short run (3km) south as they hadn't been before, and then returned.
Fuel stop at Kingston for the 4Runner, while the rest of us had a look at the Big Lobster.
Arrived in Robe at 4:00pm. Actual driving time was less than 4 hours. We checked into Lakeside Tourist Park and pitched the tents. Nice Park, very casual, bush setting is nice compared to being allocated a square patch of grass. Takeaways for dinner, then a few (!!!) drinks. There was a cold breeze through the camp so early to bed (about 10:00pm).
Friday 27th December 2002
Early(ish) start and after brekkie we headed out to the beach behind the Rubbish Dump. While airing down we managed to convince a family in a Mazda 626 wagon that, yes, the "4WD Only" sign was serious. We were about to find out just how true this was.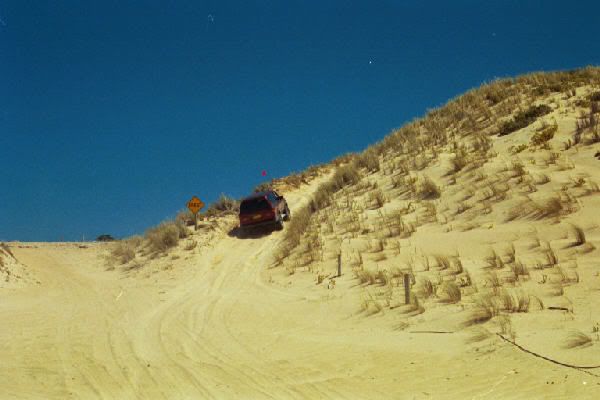 I led the way through the dunes in the GU and was first onto the beach, while the others waited. The beach is about 2km long and the first half was firm but the further round I went, it got softer. By the time I got to the other end it was low range 1st gear and going like a sand plough. I stopped on a down slope to air down from 17psi to 13psi. While stopped I saw that Hosa in the GQ was in serious strife about two thirds of the way around the beach. Horribly bogged.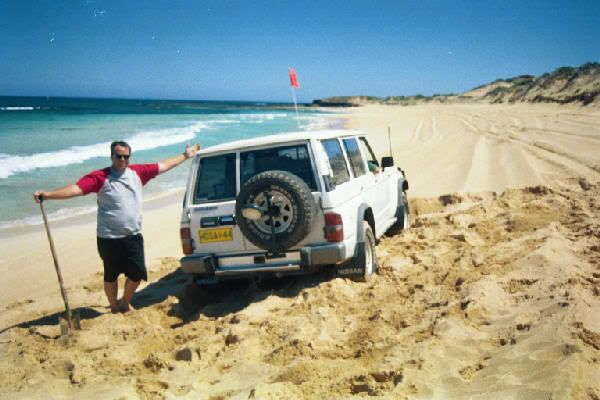 With the tyre pressure down it was easier going and I passed him and then stopped about 100m past him. A quick mention of a snatch strap (pride kicked in) plus a bit of digging and pushing and the GQ was mobile again. Richard had come around in the Vitara and the others had walked.
When we caught up with Rick Moore, an ex-local, the next day, he told us that no one drives on that beach. Thanks Rick. Mate. A bit late!
After leaving the dump beach we tackled a few dunes and one monster with a sharp left turn at the top turned into a bead breaker as I rolled the front right partly off the rim.
Dolly to the rescue….……. (4tonne Exhaust Jack to those who don't know her)
Dolly easily lifted the Patrol and we fitted the spare (after letting it down to 17psi). We then pumped the other 3 up to 17psi, something I should have done when I came off the beach. After cleaning the rim and bead back at camp, we reseated the tyre. No damage fortunately, other than pride.
Back to Robe for lunch where we met up with Stephen and Morgan Gomer in their TD Prado. Once they had their tent set up it was 6 vehicles off to explore Little Dip Conservation Park and its beaches. Beautiful spot and very popular. Lots of campers.
After Little Dip we headed onto Long Beach, the town beach, for some swimming and Kite Flying. This beach is 17km long and generally drivable by 2WD cars. As it runs around a bay, it is one of the best beaches I've seen.
We stopped and pushed a bogged Falcon wagon back onto firm ground (made easier on the second attempt by the driver releasing the handbrake). We then stopped a bit further down and watched a guy paraboarding (water skiing/surfing using a parachute). Looks like fun but hard work.
Saturday 28th December 2002
Saturday morning we took 6 vehicles to the Millicent Buggy Club property between Robe and Beachport. This was very disappointing as the dune area is only 40miles by 6miles. Disappointing – NOT.
One large dune beat all of us but if you like dune driving, this is an awesome place to play. One near vertical short climb was very soft, but after some prework and several failed attempts by some, we all made it through. The IFS Prado was the most spectacular, lifting both front wheels, due to bit too much right foot.
Back to Robe at about 2pm for lunch and onto Long Beach again for some swimming. Rick Moore came onto Long Beach in his Patrol and stopped for a beer and a chat. We caught up with Paul, Kerry, Jim & John in the Subaru at about 4pm. They camped with us for 2 days, but elected to give the dune driving a miss and rode with others. (Not much clearance under a Liberty wagon).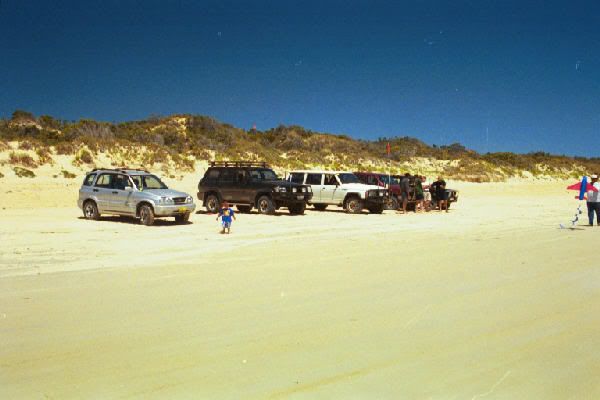 The Cherokee and 4Runner left for Adelaide as Mike & Gary had to catch a plane to Sydney and Murray had to work.
Sunday 29th December 2002
Sunday morning 3 vehicles went back into Little Dip for another look around while Hosa in the Patrol went diving at Ewens Ponds near Mt. Gambier. We met up with him again in Robe after lunch and chatted with Trevor in the Cruiser Ute. Trevors' clutch was playing up so he decided not to join us for the afternoon.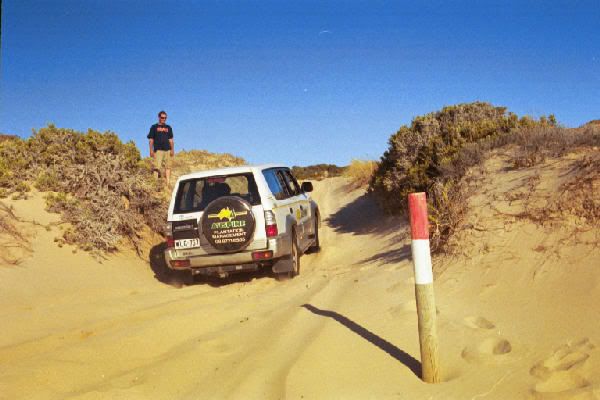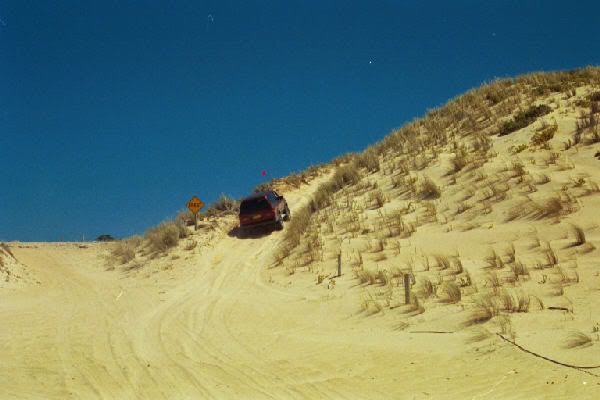 Stephen and Morgan left for Mt.Gambier as he had to work on Monday.
Sunday afternoon it was 3 vehicles onto the Coast Trail between Robe and Beachport. This is a great 4WD journey including dense forests, beautiful beaches, crawling over rocks, challenging dunes, massive reefs and rugged coastline. This trip is highly recommended and changes every year. This was our third time in four years and still impressed us.
We came across 2 vehicles (new Pajero and Pathfinder) horribly bogged on a beach on the Coast Trail. Reversed up to the Pajero and connected the snatch. Then they thought they'd help by pushing the Pathfinder. Managed to push it forward about 6 metres so now it's slightly ahead of the Pajero. Disconnect Pajero and connect to Pathfinder……..
Towed the Pathfinder onto firm sand and disconnected the strap. He then promptly bogged himself again. Reconnected strap and towed him onto rocks. Connected Pajero and towed him past the Pathfinder, Pajero had to take evasive action just before he hit the Pathfinder. That night we watched the video that Richard filmed, and we saw that the driver had the Pajero on full lock all the way down the beach!!!!!!!
Special Note:- The Pathfinder driver showed us that he already had a shackle attached to the front of his vehicle. We had a close look and it was an unrated D shackle. When we went to change it to a 4.75t bow shackle, we found that his shackle wasn't actually through the recovery point. It was too big so he had attached the shackle with a tiny trailer chain shackle. Very scary thinking of the consequences of this. Always pays to double-check everything yourself.
Sunday night we went for a drive around Robe and even a night drive on Long Beach. The tide was right up so we didn't go too far along the beach. The tide was one hazard but so was the number of couples cuddling up to keep warm () and they really didn't appreciate the Hellas lighting up the area.
Monday 30th December 2002
Packed up camp in the morning. Hosa and Richard headed off just before lunch. We stayed in Robe until about 2pm and then made our way back to Adelaide.
Thanks to everyone who came along or met up with us. Another fantastic Robe Trip and I'm sure we'll be doing it again, maybe this year.
Warning
: count(): Parameter must be an array or an object that implements Countable in
/misc/17/358/168/144/2/user/web/touring4x4.com/blog/wp-includes/class-wp-comment-query.php
on line
405